The Smithsonian Makes Lighting Their Galleries an Art Form
Solais Lighting Group
Solais and several lighting companies have been working on solutions for the Renwick Gallery with Scott Rosenfeld, Smithsonian Lighting Designer, for two years now. Reopening next week, November 13, after a $30 million renovation, the building's 19th-century windows are mostly covered with screens to protect the art directly from the sun.
"I always thought when we went to more energy-efficiency, it was going to suck, that I would have to reduce the quality of light," says Rosenfeld. "What we found was that not only does it not reduce quality, but it provides a whole new level of choice that we didn't even know existed."
Among the many details thought over in the reopening and restoration, the lighting configuration is utilizing top-of-the-line LED lamps and fixtures to reduce the building's overall electricity usage by 75% and even reduce air conditioning usage by 25% – due to the LED products producing less heat. More so, the LED products are going to last 4 times longer than the incandescent and halogen alternatives.
"See this lightbulb here?" he says, cupping one in his palm. "It didn't exist when we started this project", says Rosenfeld. What was he referring to? The product he was holding in his had when making that comment excitedly was none other than the Solais LR38 VNSP!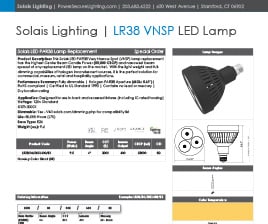 The LR38 VNSP is our 4-degree spotlight that is compact and intense. With 55,000 center-beam candlepower at 9.5 watts, it will provide light precisely where it's needed without terrible shadows.
Read more: https://www.smithsonianmag.com/smithsonian-institution/renwicks-new-lighting-saves-energy-money-art-eyes-same-time-180957100/#JiYtJY9d05Pgktlj.99