EnergyLite LEDs Bring Savings and Security to Light for Lyon-Lincoln Electric Cooperative
Solais Lighting Group
We have been talking tons about our retail and hospitality LED line lately. As the days are getting shorter and shorter, let's talk a little bit about our outdoor LED line today. ABout a year and a half ago, we were part of a project involved with the replacement of more than 100 175-watt mercury-vapor and high-pressure sodium streetlights with EnergyLite's 48-watt SecureLite LED Area Lighting fixtures for roadway applications in Russell, Minnesota.
Energy consumption in Russell was reduced by more than 61,000 kWh annually, and the upgrade resulted in savings of $16.50 per resident per year. Cost saving is always looked at when working on an upgrade, but can you put a value on the increased safety provided to a well lit area? Take a look at the results yourself!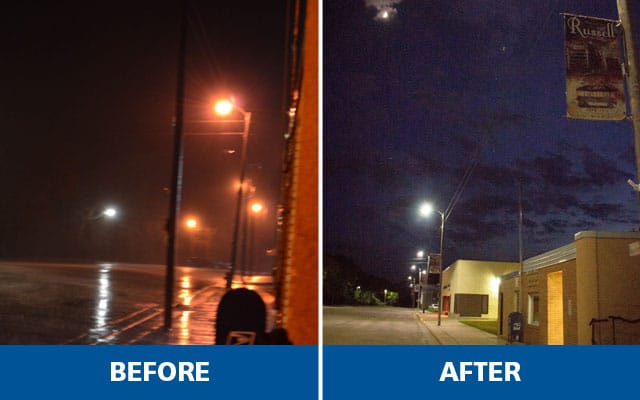 The difference is HUGE! Read more about the project in the full Lyon-Lincoln Case Study or download the file.